Hope Diamond
The Hope Diamond (previously "Le bleu de France") is a large, 45.52 carats (9.10 g),deep-blue diamond, housed in the Smithsonian Natural History Museum in Washington, D.C. The Hope Diamond is blue to the naked eye because of trace amounts of boron within its crystal structure, but it exhibits red phosphorescence after exposure to ultraviolet light.[2][3] It is classified as a Type IIb diamond, and is famous for supposedly being cursed. It received its newest setting on November 18th, 2010.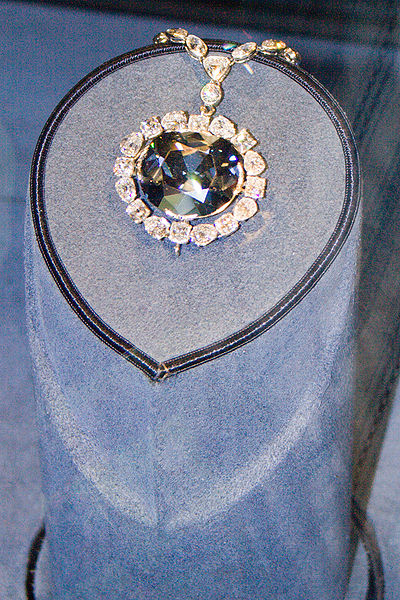 (Photo: Harry Winston, Inc., 1958, Photographed by David Bjorgen. GNU Free Documentation License.)
Cartier, McLean, and Winston
Pierre Cartier first offered the Hope Diamond to U.S. socialite Evalyn Walsh McLean in 1910. She initially rejected the stone in the Hope family's old setting, but she found the stone much more appealing when Cartier reset it in a more modern style and told elaborate stories about its supposed "cursed" origins. The new setting was the current platinum framework surrounded by a row of sixteen alternating Old Mine Cut and pear-shaped, Old Mine Cut diamonds. Eventually, McLean bought the new necklace and afterwards wore it at every social occasion she organized. When she died in 1947, she willed the diamond to her grandchildren, though her property would be in the hands of trustees until the eldest had reached 25 years of age, which would have meant at least 20 years in the future. However, the trustees gained permission to sell her jewels to settle her debts, and in 1949 sold them to New York diamond merchant Harry Winston.
Over the next decade, Winston exhibited McLean's necklace in his "Court of Jewels," a tour of jewels around the United States, as well as various charity balls and the August 1958 Canadian National Exhibition. At some point, he also had the Hope Diamond's bottom facet slightly recut to increase its brilliance.
The Smithsonian Institution
Smithsonian mineralogist George Switzer is credited with persuading Harry Winston to donate the Hope Diamond to the Smithsonian National Museum of Natural History for a proposed national gem collection to be housed at the museum. On November 10, 1958, Winston donated the diamond to the Smithsonian Institution, where it became Specimen #217868, sending it through U.S. Mail in a plain brown paper bag. Winston never believed in any of the tales about the curse and died of a heart attack at the age of 82 on December 28, 1978.
For its first four decades in the National Museum of Natural History, the Hope Diamond lay in its necklace inside a glass-fronted safe as part of the gems and jewelry gallery, except for a few brief excursions: a 1962 exhibition in the Louvre; the 1965 Rand Easter Show in Johannesburg, South Africa; and two visits back to Harry Winston's premises in New York City for a 50th anniversary celebration in 1988 and some minor cleaning and restoration in 1996.
When the Smithsonian's gallery was renovated in 1997, the necklace was moved onto a rotating pedestal inside a cylinder made of 3-inch (76 mm) thick bulletproof glass in its own display room, adjacent to the main exhibit of the National Gem Collection in the Janet Annenberg Hooker Hall of Geology, Gems, and Minerals. The Hope Diamond is the most popular jewel on display.
On February 9, 2005, the Smithsonian Institution published the findings of its year-long computer-aided geometry research on the gem and officially acknowledged the Hope Diamond is part of the stolen French Blue crown jewel.
On August 19, 2009, the Smithsonian Institution announced that the Hope Diamond is to get a temporary new setting to celebrate a half-century at the National Museum of Natural History. Starting in September 2009, the 45.52-carat (9.10 g) diamond will be exhibited as a stand-alone gem with no setting.
The Hope has been removed from its setting for cleaning from time to time, but this is the first time it will be on public view by itself. Previously it has been shown in a platinum setting, surrounded by 16 white pear-shaped and cushion-cut diamonds, suspended from a chain containing forty-five diamonds. The Hope will return to its traditional setting in late 2010.
(Information above is from Wikipedia's Hope Diamond entry and is provided for educational purposes.)
Video: 50th Anniversary at the Smithsonian Institution: The Hope Diamond gets a new setting